2022 Poker Run - May 21st
| | | | | |
| --- | --- | --- | --- | --- |
| | Captain | Length | Manufacturer | Location |
| 1 | Gus Pappas | 42' | Fountain | Astoria, Ny |
| 2 | Tony Willette | 46' | Black Thunder | Stafford, Va |
| 3 | Bobby Davis | 38' | Wellcraft Scarab | Fredericksburg, Va |
| 4 | Charles Baetzman | 36' | Statement | Mount Dora, FL |
| 5 | Wayne Davis | 28' | Baja Sport | Moneta, va |
| 6 | LC Bowers | 33' | Fountain | Washington, DC |
| 7 | Roger Ausley | 49' | Fountain | Graham, NC |
| 8 | Matt Barrett | 24' | Velocity | Gordansville, Va |
| 9 | Daniel Barret | 24' | Velocity | Gordansville, Va |
| 10 | Dillon Kincer | 35' | Fountain | Spotsylvania, Va |
| 11 | Chris Krum | 24' | Starcraft | Mineral, Va |
| 12 | Roger Shoemaker | 21' | Crownline | Maurertown, Va |
| 13 | Joshua Green | | | Spotsylvania, Va |
| 14 | Greg Phillips | 28' | Avalon | Moneta, Va |
| 15 | Molly Bristol | 24' | Chaparral | Huddleston, Va |
| 16 | John Petit Jr | 26' | American Off Shore | Spotsylvania, Va |
| 17 | Alan Hasty | 28' | Eliminator | Ponce Inlet, Fl |
| 18 | Dylan Witt | 28' | Avalon | Moneta, Va |
| 19 | Scott Witt | 36 | Wright Performance | Moneta, Va |
| 20 | David Boserman | 20 | Scarab | Waynesboro, Va |
| 21 | Tony Fox | 39' | MTI | Littleton, NC |
| 22 | Nathan Sereno | 30' | Adrenaline | Hardy, Va |
| 23 | Andrew Patana | 26' | Hurricane | Lynchburg, Va |
| 24 | Kevin Kelly | 28' | Eagle Pacifico | Altavista, Va |
| 25 | Curt Dubbin | 23' | Starcraft | Moneta, Va |
| 26 | Willie Hamm | | American Offshore | |
| 27 | Donald Adcock | 25' | Checkmate | South Boston, Va |
| 28 | John Dabateiner | | Donzi | Hardy, Va |
| 29 | Pat Bailey | 33' | Rinker | Moneta, Va |
| 30 | Marshall Prillaman | 26 | Donzi | Penhook, Va |
| 31 | Greg Witt | 28 | Avalon | Moneta, Va |
| 32 | Jesse Love | 23 | Baja | Spotsylvania, Va |
| 33 | Raymond Givens | 42 | Fountain | Akron, Oh |
| 34 | Ken LaBrake | 23 | Hussicane | Wirtz, Va |
Attention Boat Captains:
There is going to be an impromptu Fun Run on Friday, the 20st.
We'll start at Crazy Horse Marina and head to Magnum Point Marina,
then back to Crazy Horse Marina for lunch at Los Amigos.
The run will be lead by non other than good ole Uncle Gus!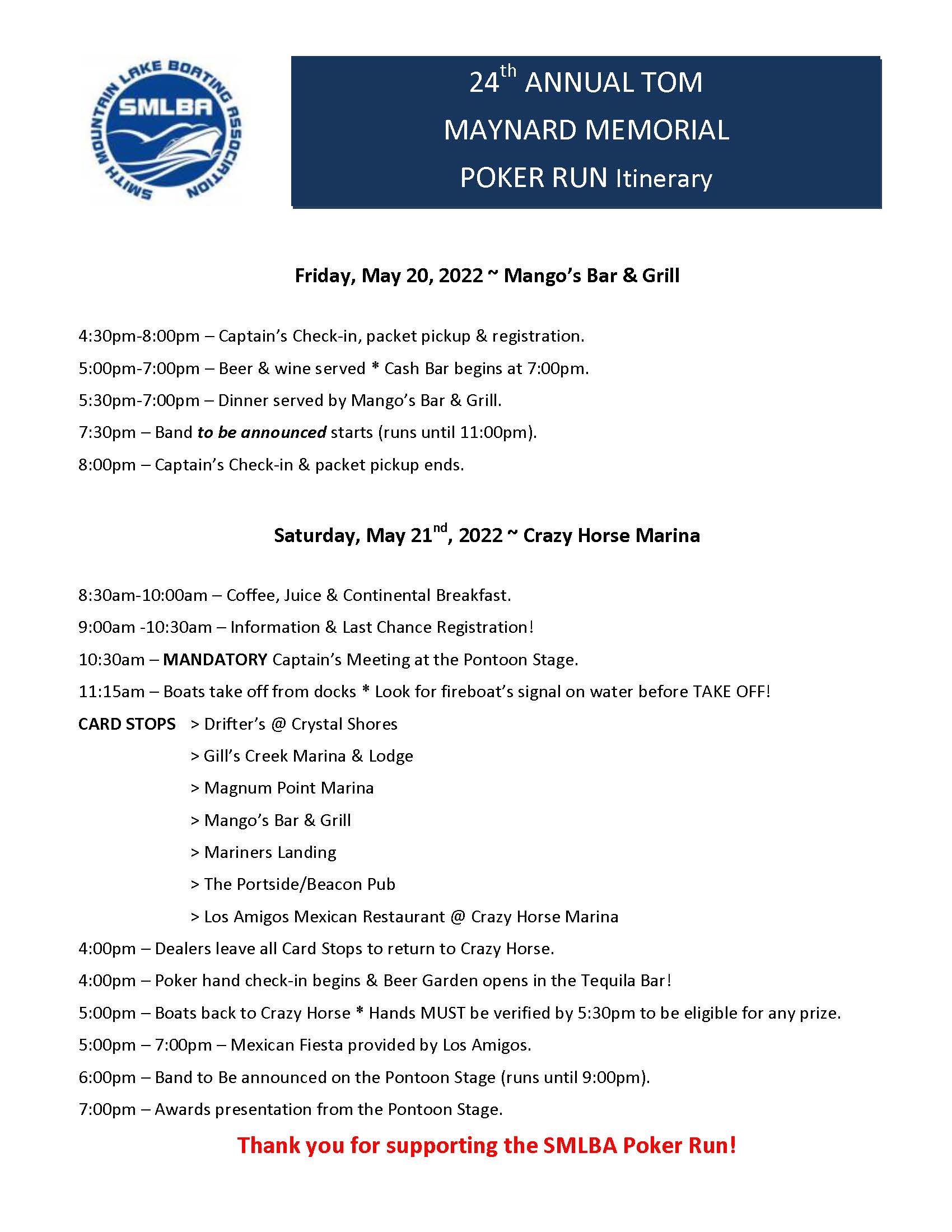 2022 Card Stops
Mango's Bar and Grill

Crazy Horse Marina

The Portside/Beacon Pub

Mariner's Landing

Gills Creek

Drifter's

Magnum Pointe
If you have any questions please contact: 540-797-0944
____________________________________________________________________________________
What is the Poker Run?
First, the poker run is a charitable fund raising event that gives players an opportunity to play "a card game" on the water. It is definitely not a race. There is a limit of 50 boats, but captains can have as many players and registered guests on board as their legal capacity allows. The boats travel to multiple card stops (up to seven) situated all over the lake to retrieve a playing card at each stop at the end, each player presents their best five cards to be eligible for several thousand dollars in cash prizes. The first player to get four aces receives $5000.00. The SMLBA has awarded this top prize numerous times. There is also a $1500.00 prize for the best hand, $500 for second best, $250 for third best, and many other cash awards for various categories such as best appearing crew and the most players on a boat. Proceeds from the event go to various lake organizations such as The Smith Mountain Lake Marine Volunteer Fire Dept.
Boats of every description are welcome. Past events have featured large cruisers, house boats, pontoon boats and even small runabouts...speed is not a factor. If a vessel is too slow or ends up under durress to cover the entire course in the five hours of the event, then they can be "spotted" a card stop and may draw those cards at the end of the run. The larger boats have an even better chance of taking home the cash for the most players on a boat.
The entry fee is $175.00 a player, with a two player minimum per vessel. The guest fee is $110.00. Guests may participate in the entire weekend's festivities, but are not eligible to play the game. All players and guests are treated to a dinner and entertainment on Friday night, and for the actual poker run will take place at Crazy Horse Marina this year. Upon their return to the marina Saturday afternoon, players, guests, volunteers and sponsors will join together for a beer garden, followed by a dinner and music.
Who was, Tom Maynard, Captain Easy, Article
Player/Guest Registration Online
Player/Guest Registration to print